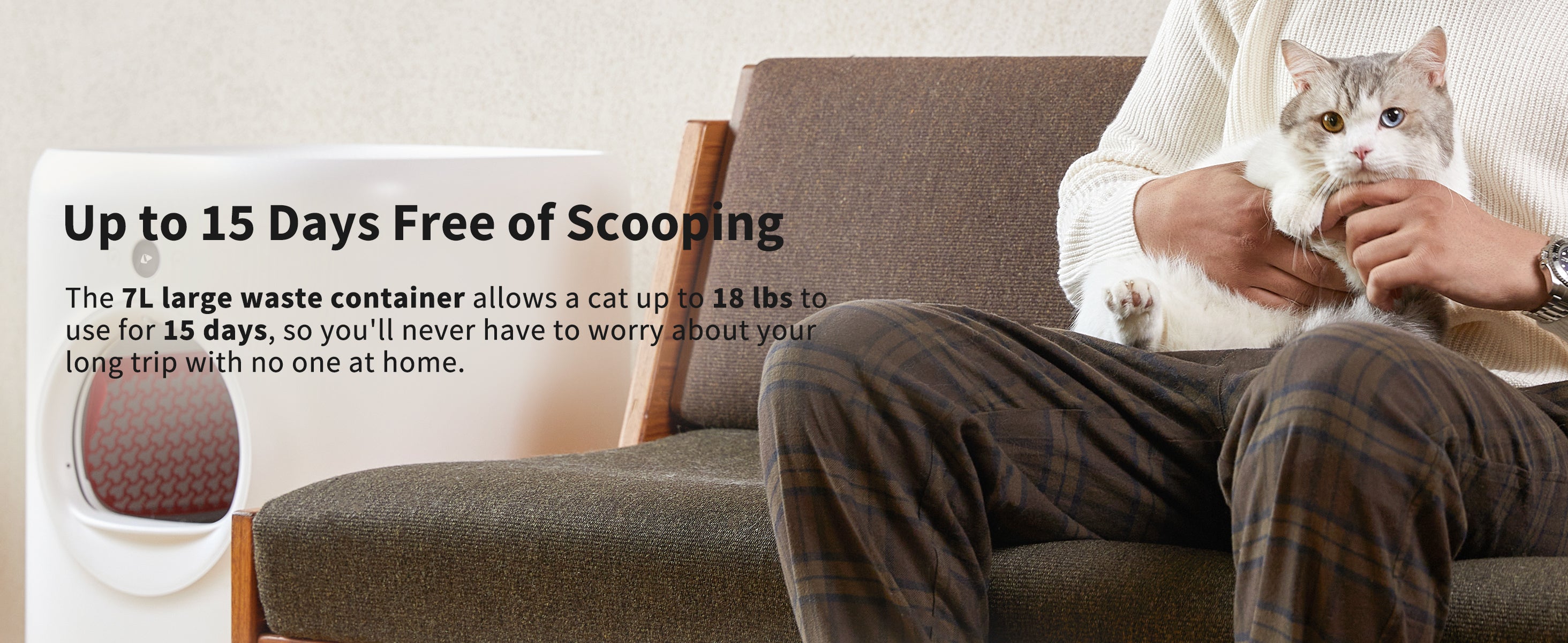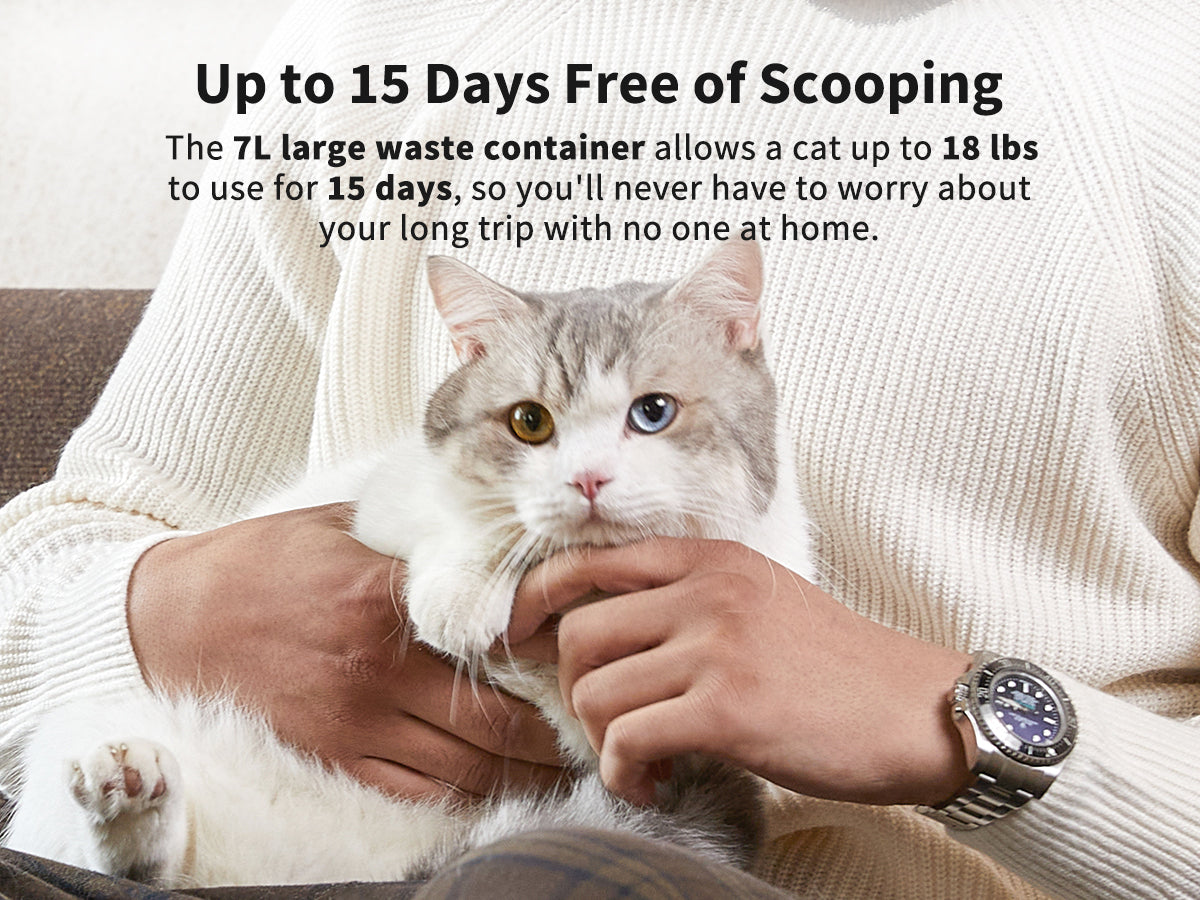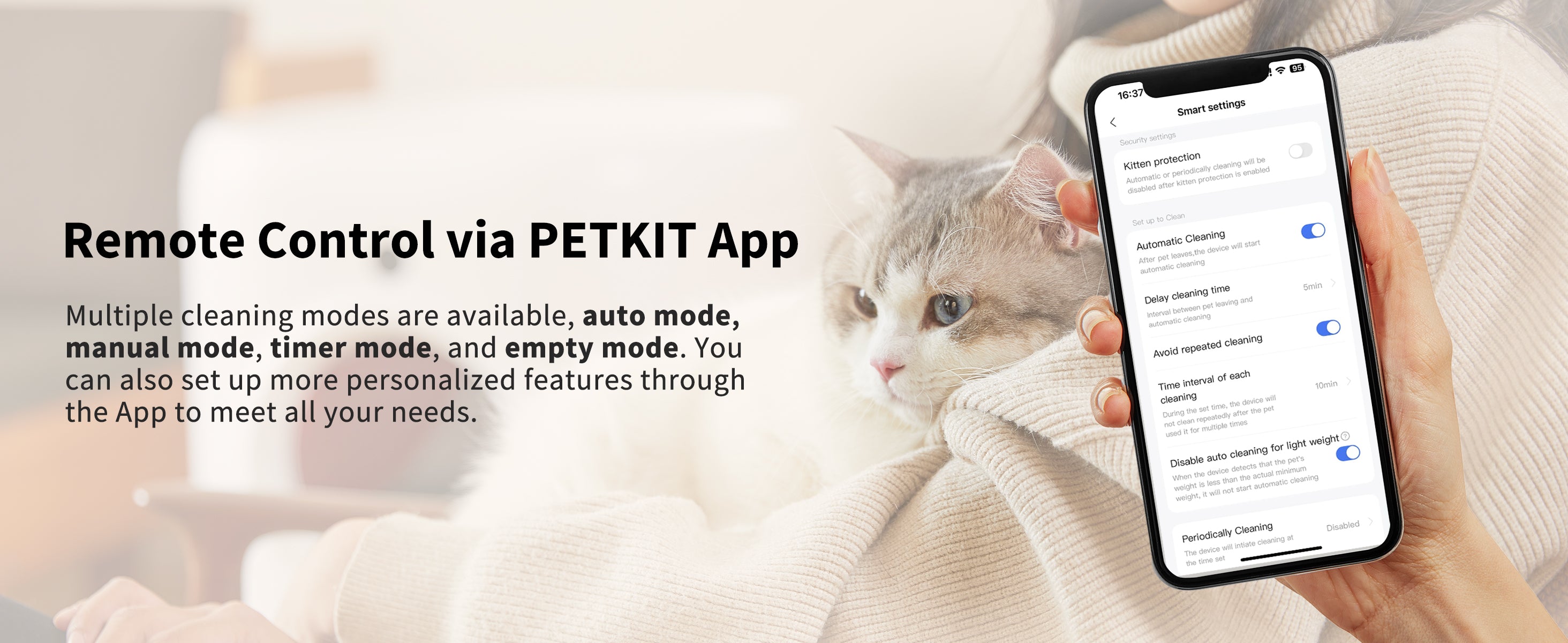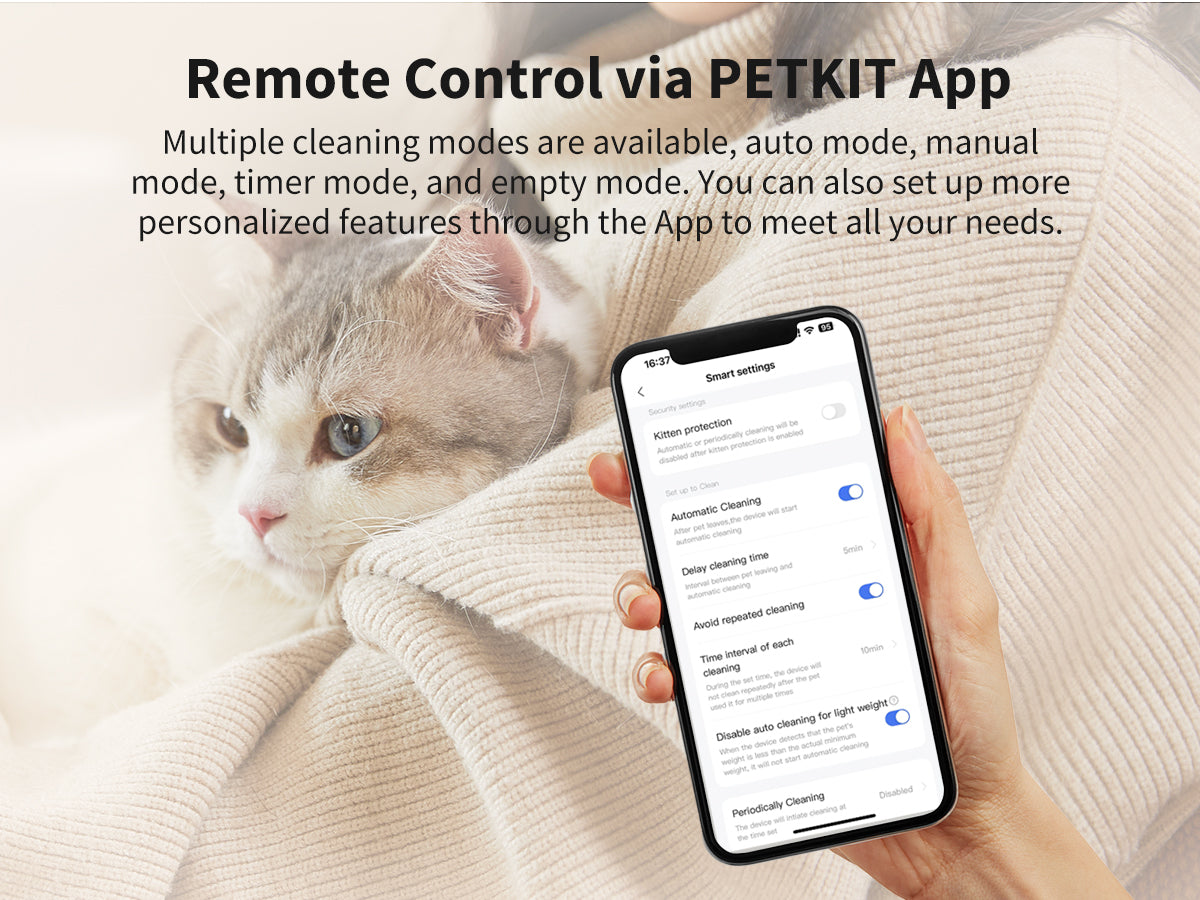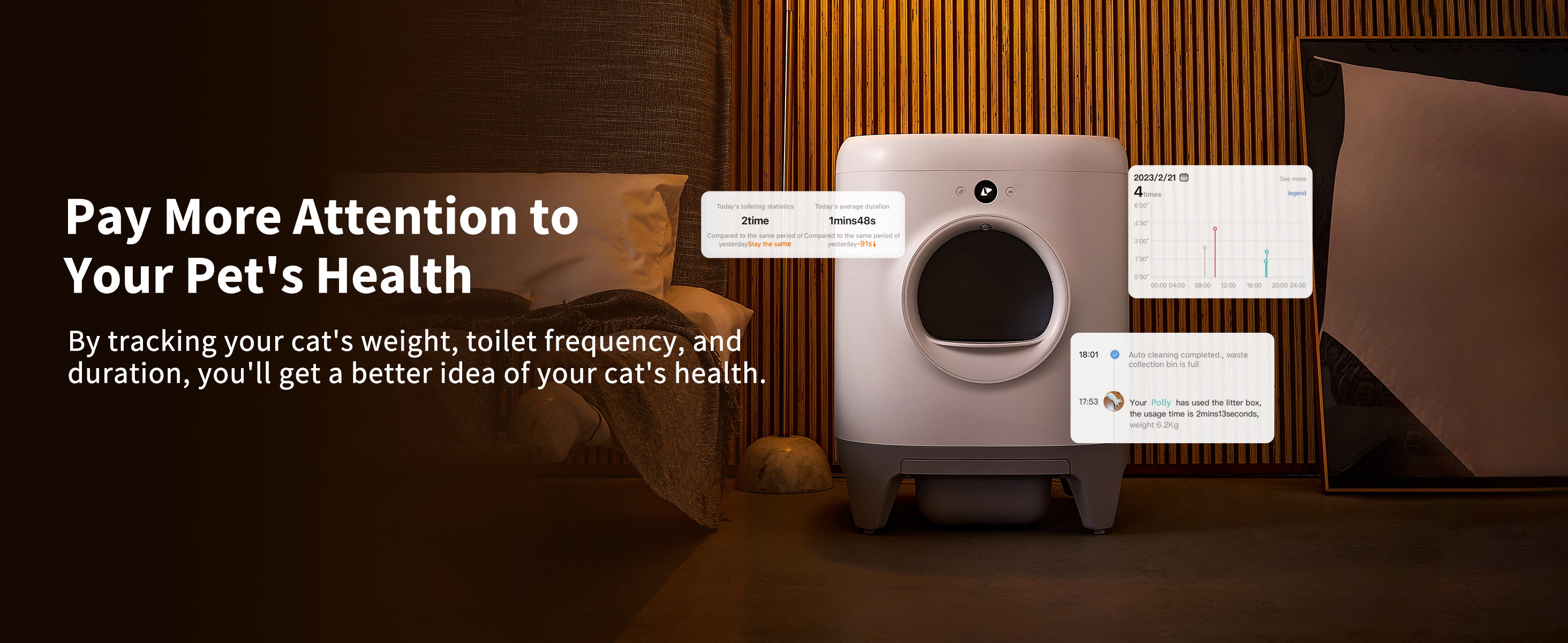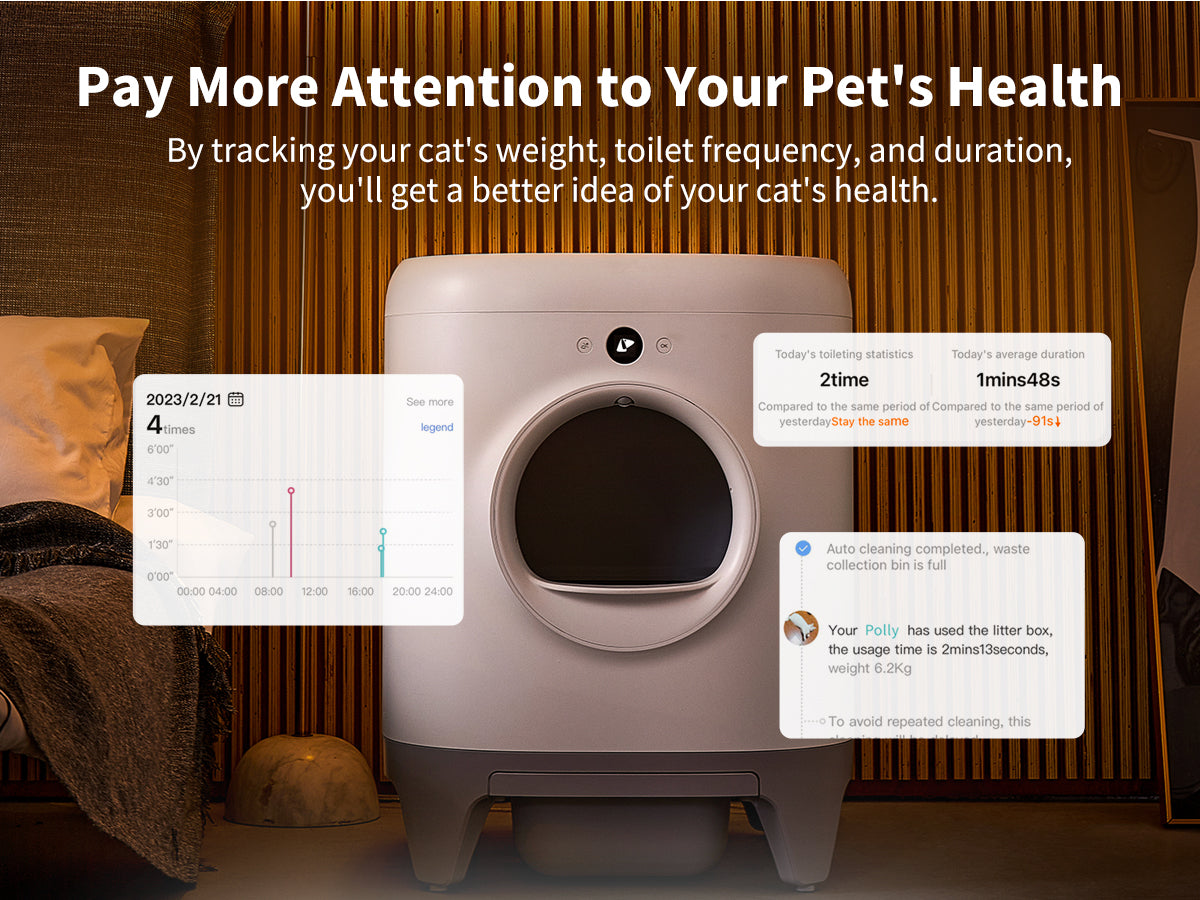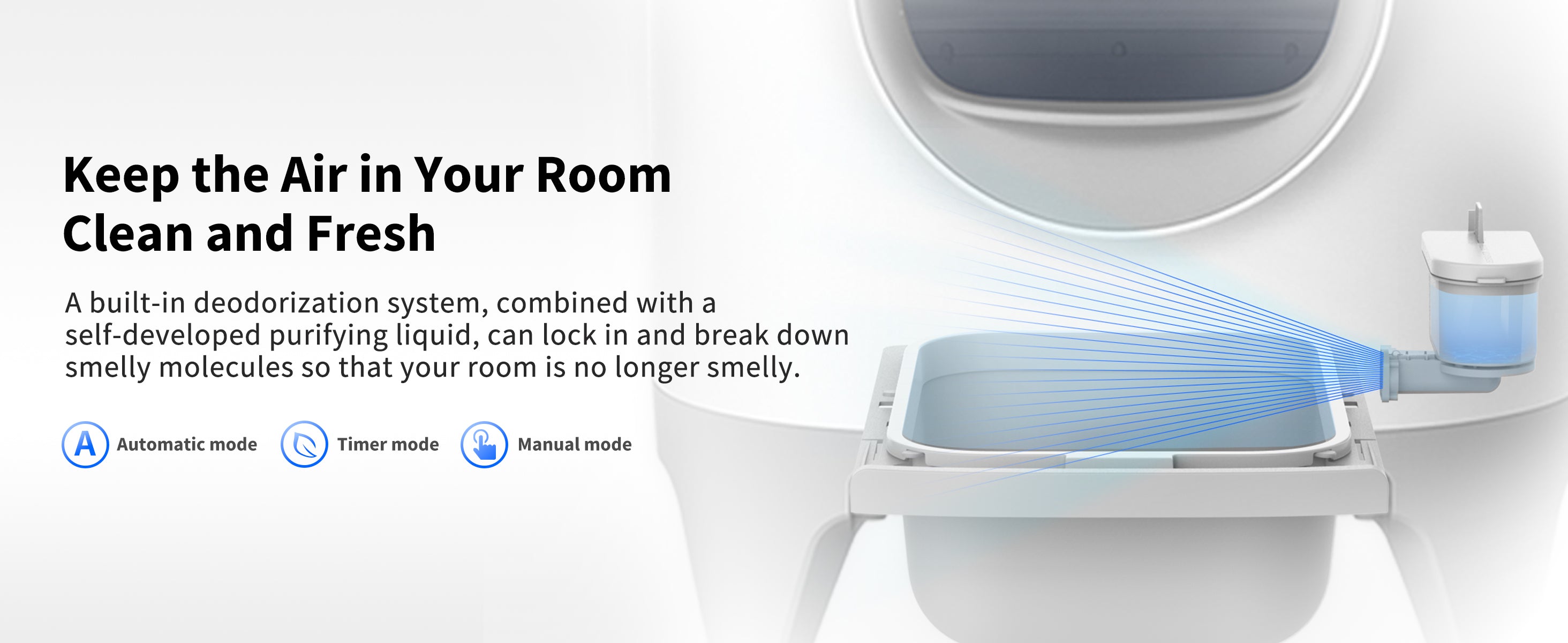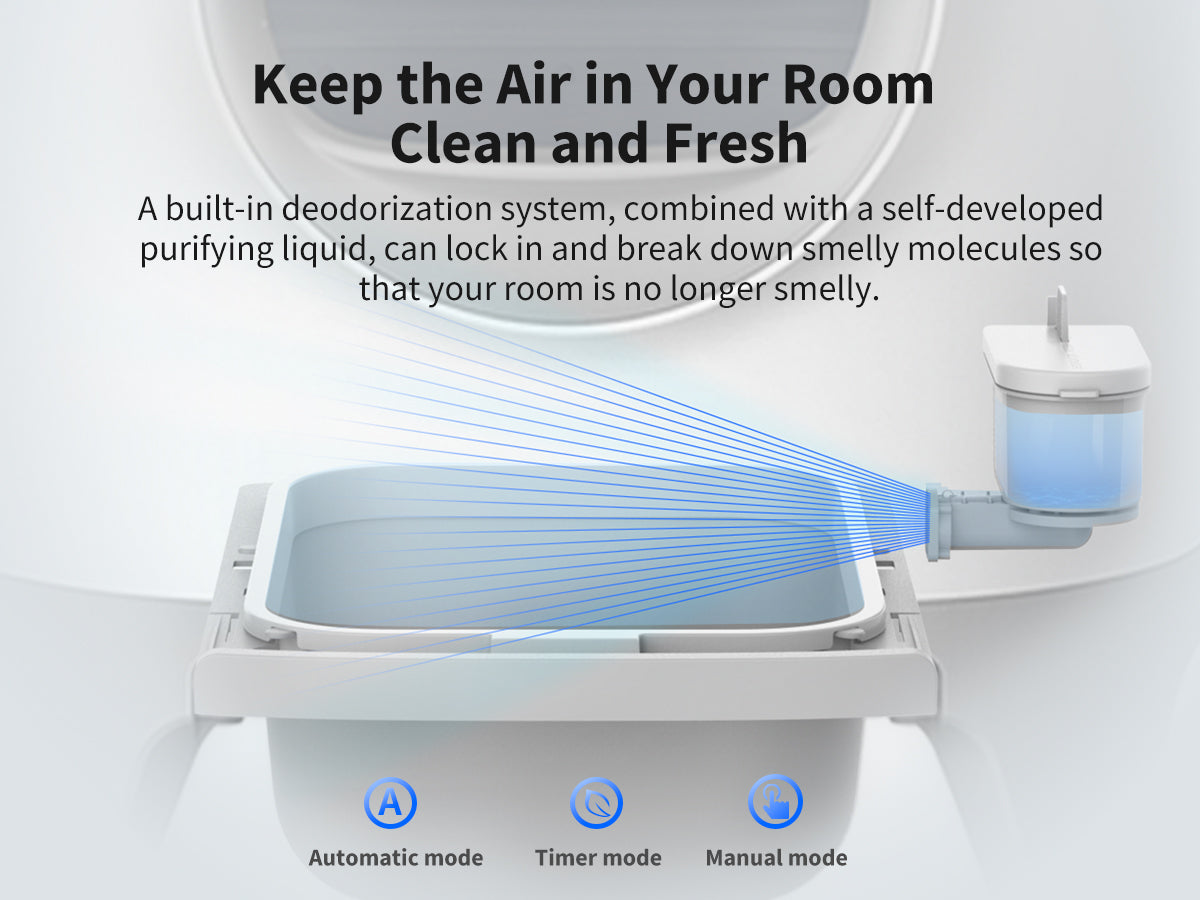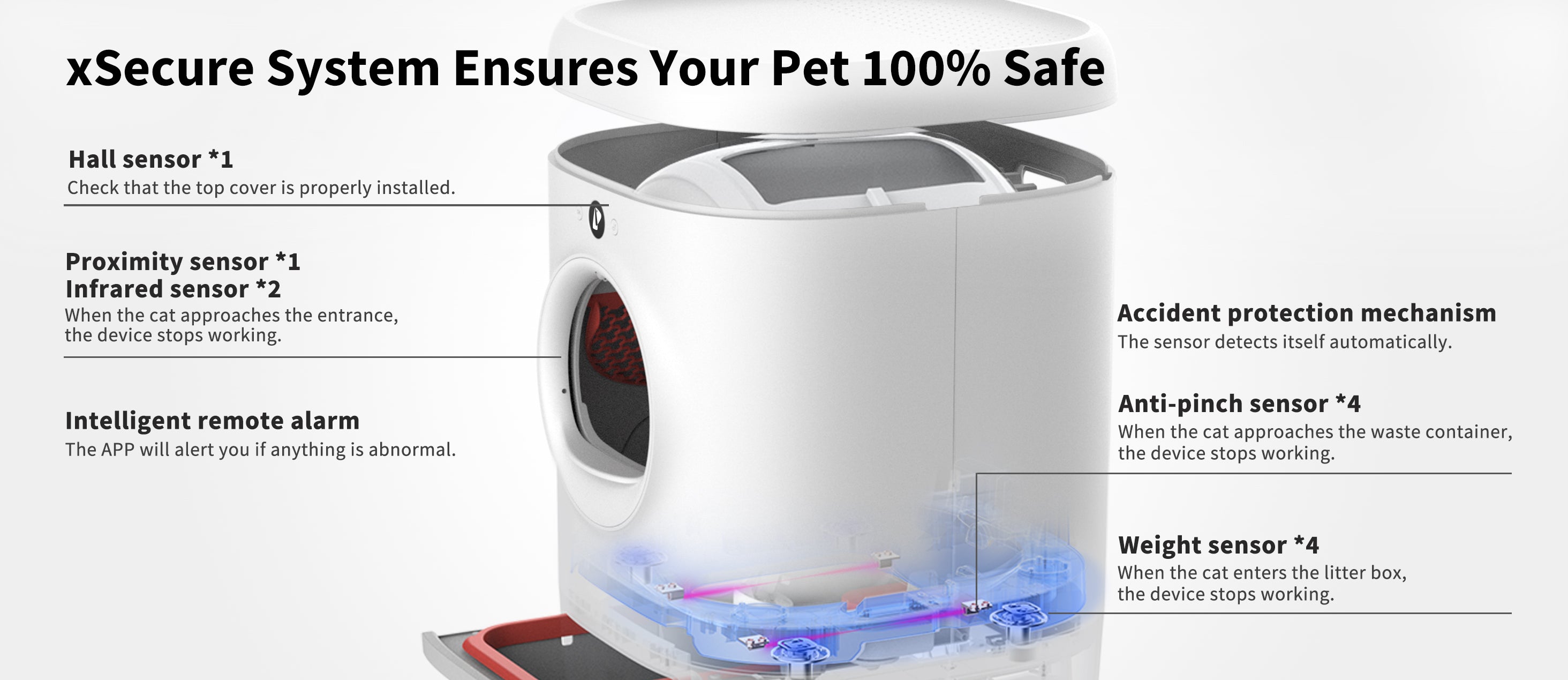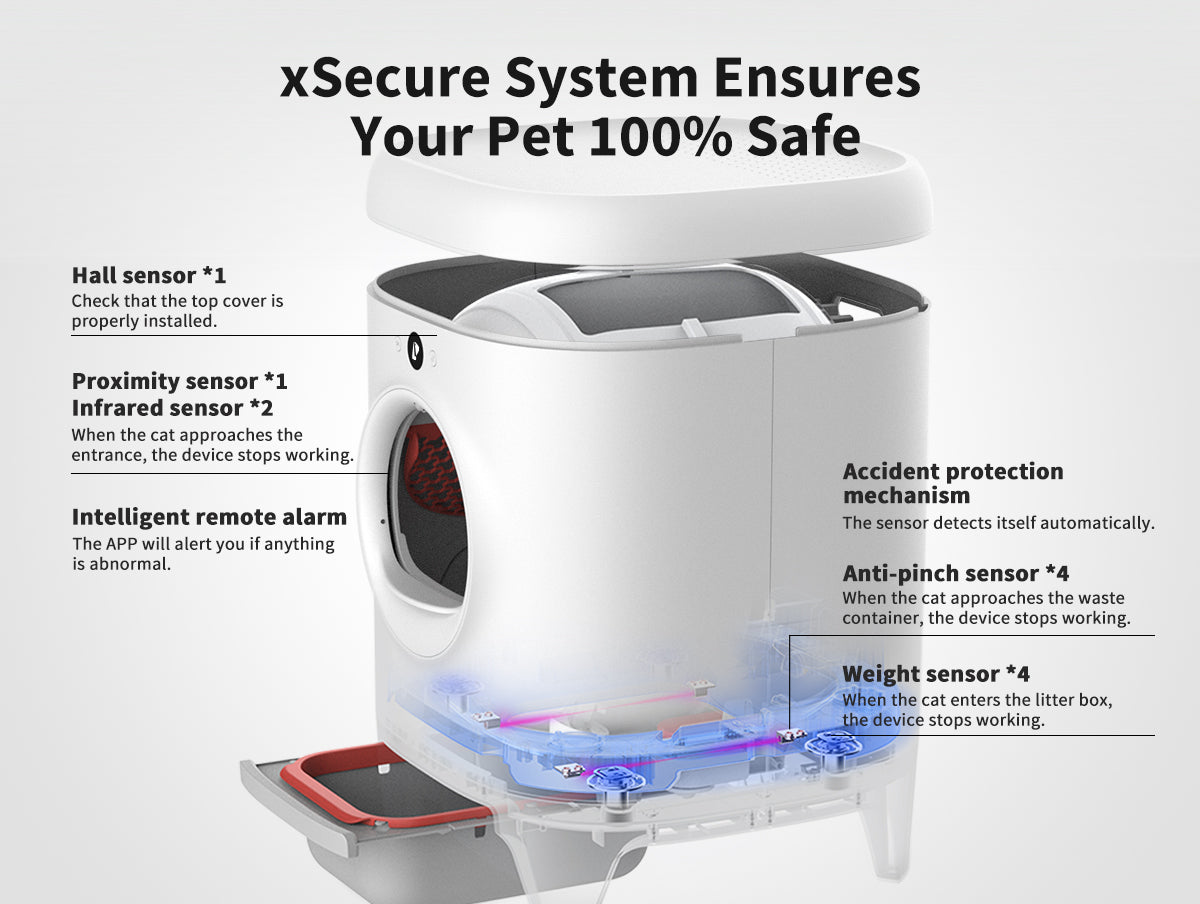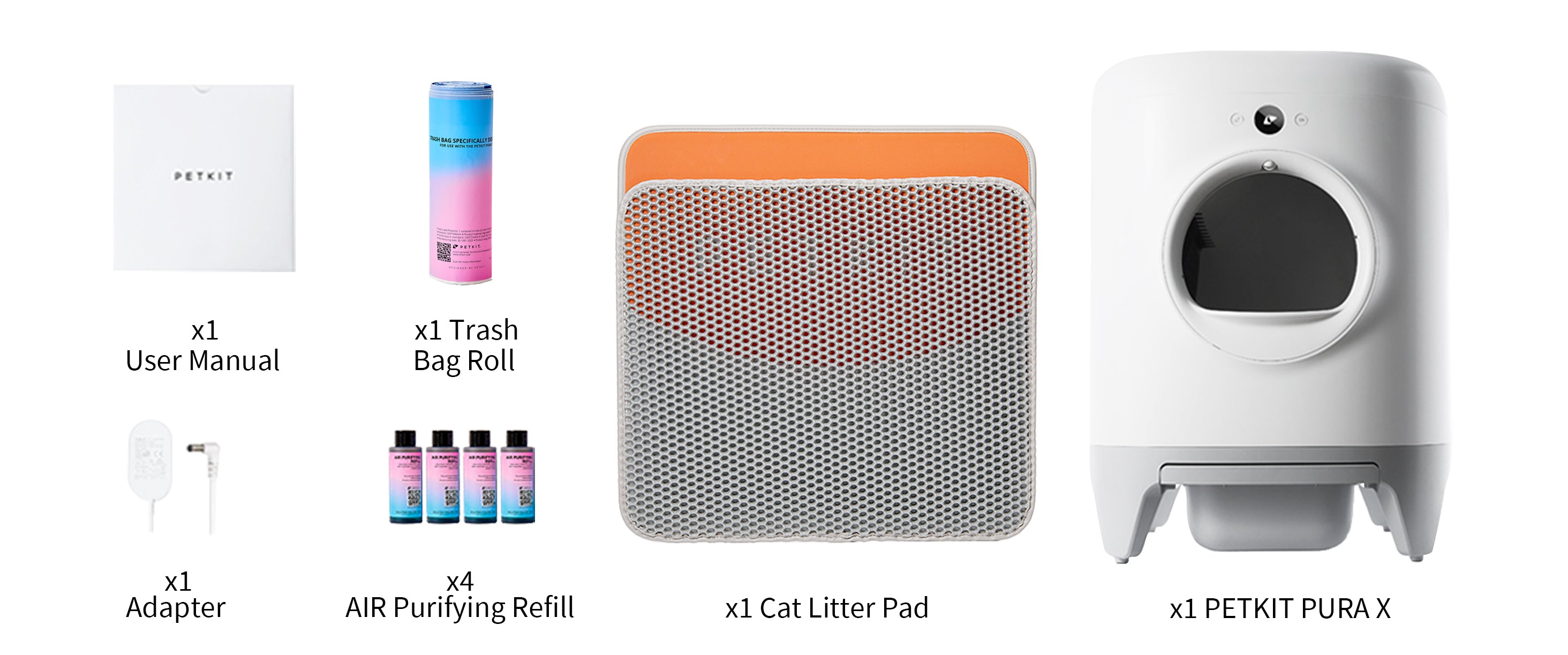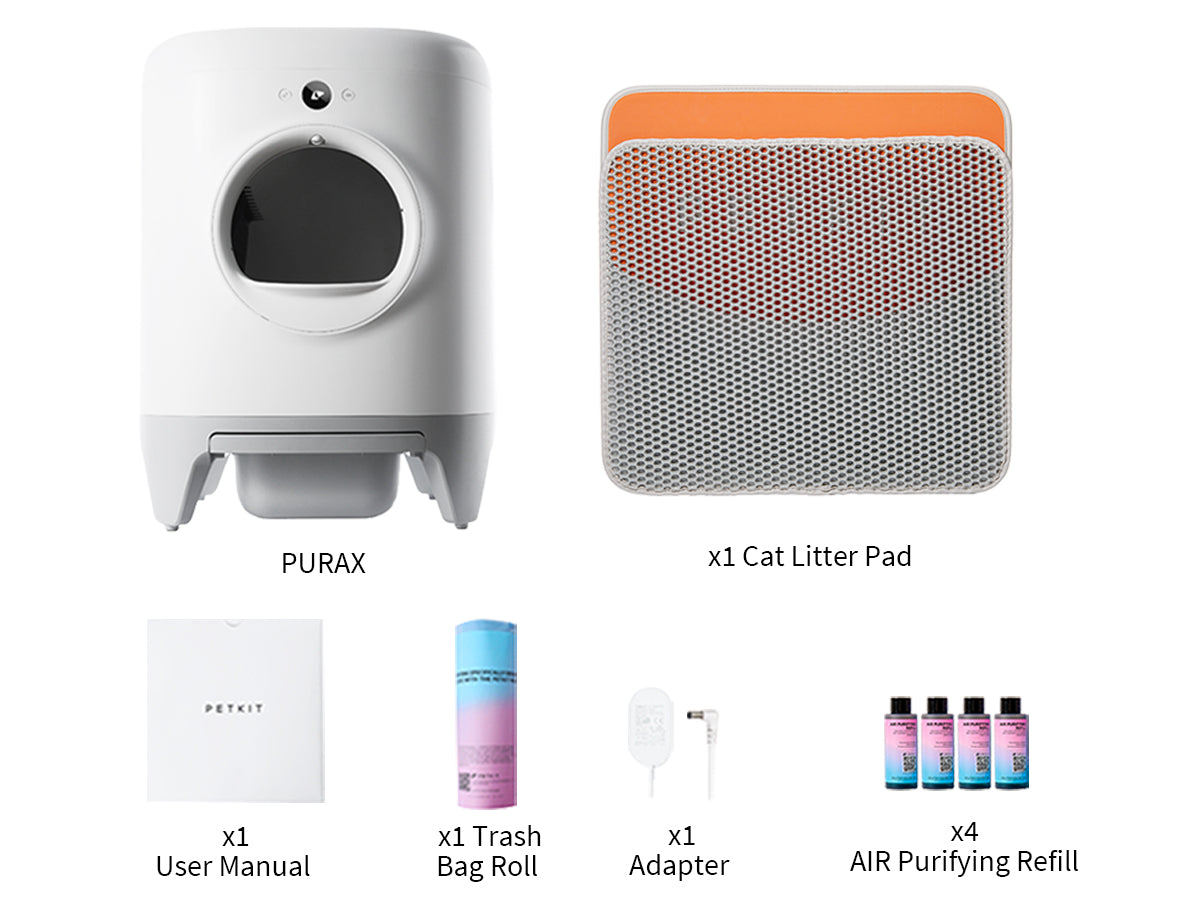 This product is rated 4.5 of 5.0 stars.
It has received 39 reviews.
Pura x
This totally rocks! I want another one!
Great look and works well
It works well and sensors detect any movement near the unit to keep my pets safe. I do have one larger cat that it is not a good fit for (13 lbs). At this point, all 3 of my cats prefer the Pura Max because of its larger size.
Thank you for your honest comments! Your feedback means the world to us! If you have any questions, please feel free to contact us. Customer email:support@petkit.com
Facilita el trabajo
Después de mucho investigar y ver comentarios, decidi comprarla. Ha hecho mucho más sencillo tener 4 gatos en casa, de 4-5.2 kg, y de 1 a 3 años de edad.
Primero dejamos que se familiarizaran con el arenero, y permitiendo aun que utilizarán areneros convencionales, luego les dejamos solo uno normal, y dejamos de limpiarlo seguido para que les pareciera más atractivo el nuevo y limpio arenero automático.
poco a poco vi que iban usando más el pura X, y el sensor de peso es muy exacto, identifica cada uno de mis gatos, la ventaja es que todos pesan diferente, sino si los puede llegar a confundir.
Después de dos - tres semanas note que solo faltaba uno de mis gatos que la usará, así que decidí quitar la última caja, con eso no tuvo más remedio que acostumbrarse.
Si tuve problemas con mi gato más grande porque no se podría acostumbrar al espacio más reducido y llegó a hacer dos veces fuera de la caja, pero ya me lo esperaba por qué también le llegó a pasar con el arenero normal. Los demás no tuvieron ningun problema.
Recomiendo hacer una limpieza profunda al menos 1 vez al mes, sirve para rellenar el líquido de aromas, y que el timmer de limpieza automática la tengan desactivada al inicio, para que no se asusten los gatos, ya que están acostumbrados, yo lo puse a media hora para que los desechos puedan solidificarse bien con la arena, sino puede manchar las paredes al caer.
Las bolsas son resistentes y el único paquete que viene me duró 3 meses, ya compre otros 5 rollos así que espero que me dure de 10-12 meses. Son resistentes y pueden bien con el cubo de residuos lleno. Tarda en llenarse de 2-3 días, depende de cuánto vayan al baño mis gatos, cada uno la utiliza de 2-3 veces al día (datos gracias a la app).
Pero cuidado de no dejar que se llene, porque a pesar que identifica que está lleno, aún así hace la limpieza cuando va un gato, y eso puede hacer que se manchen las paredes.
Si no está en una base firme o bien nivelado, puede tener problemas de medición del peso, o identificar falsamente que hay un gato en la caja, la mayoría de las veces solo lo apague y prendí, pero los problemas se solucionaron cuando lo nivele bien.
De ahí en fuera nos ha facilitado mucho el trabajo, es más fácil solo cambiar la bolsa que andar limpiando media hora todo el arenero, un ahorro de tiempo y arena bastante considerable, buena inversión!
Favorite purchase for my new apartment by far
I was nervous to get this because there aren't many reviews on it yet but if you look on YouTube there are a lot of reviews from users in Asia that helped me make the decision. I'd been keeping an eye on the litter robot but could not get over the aesthetic of it since I live in a small space so anything out of place really sticks out. I love the design of this box a lot and comparing features with my friend who has the litter robot it seems like they are pretty much the same feature wise.
It was surprisingly easy and fast to set up. My cat also started using it right away (though she is not historically picky)
My new apartment didn't have room in the bathroom for a litter box so I wanted something that would be clean more often than I could keep it that way since it'd be out in the open. So far between the air freshener and my (separate) air purifier there is no litter smell in my apartment at all. Be warned though it is quite large / takes up more space than decent sized trash cans (I was expecting this but knew I had the room for it).
I really couldn't be more thrilled with this litter box. Only worry is durability since I literally just set it up but so long as this review is up it's still working!
Best gift I bought myself this year
I've been waiting for an automated cat box WITHOUT the rake and crystal litter, and here it is, straight from heaven! Most awesome box ever! Was easy to set up, once I figured out how to connect it to my phone. My 2 medium sized 7.5lb and 10.1lb kitties went right to it, no problem. But my chonky 18.5lb kitty put his front paws on both sides of the door when I tried to shove him in, and meowed "nope!" (The door is a bit small for my big guy, though) But this box truly cuts out many hours of scooping. I find it takes about 4 days for my 2 cats to fill the hopper, but by then it starts to smell anyways. Thats great considering I was scooping 2 boxes twice a day before, as all 3 cats used them both. Now, the smaller kitties prefer this auto box because it's always fresh and clean. I use "World's Best" litter. I just wish it was big enough to accommodate my fatty. But scooping one box once a day just for him, beats 2 boxes twice a day. I also like the way it keeps track of which cat uses the box, by weighing the cat when it steps inside, and tells me how long it stays in there. Great to watch for urinary problems that cats get sometimes. At first they were curious and walked up to look in, as it started the cleaning cycle, but after a day or so, they just carried on, ignoring it. I personally feel it's a bit overpriced, but best thing I've ever invested in for my cats (for me)!